This is Aroma Mama's ninth blog income report! This report shows December 2017 blog stats, blog income, and expenses, how I made my income, what I learned, and my plans for January 2018.
This is my blog income report introduction. If you have read why I write my blog income reports and how I started monetizing my blog before, go ahead and start reading the blog stats and what I learned this month! 😉
I went into blogging being acutely aware that it could take a long time before I made a penny back for my time and expenses. I blog because I love to help people and I have a further reach by having a blog. Monetizing my blog is a goal of mine so I can continue to help people reach their health and wellness goals and help bloggers to succeed with their blogs while I still cover my operating expenses and eventually financially contribute to my family.
I Have Six Reasons for Writing My Ninth Blog Income Report
My original reason for posting my blog income reports was because I was encouraged to start a blog by reading blog income reports. I decided to start my blog income reports from the very beginning. I wanted to pay it forward and help others who are thinking of starting a blog. Blog income reports still provide me so much value and inspiration!
Blog income reports help bloggers to see what tools or strategies they may like to use by seeing other blogs income and expenses, strategies and goals, and resources and tools bloggers like to use and find helpful.
I write my income report to share with bloggers what I've learned along my blogging journey and resources I've found. And on a practical note, my blog income reports save me a lot of time answering emails about what tools and resources I use for my blog.
The affiliate links help to fund the tools I buy for my website so that I can continue to help people improve their quality of life by writing about natural health and wellness.
My blog income reports have a lot of value especially for new bloggers to see how I work and advance my blog. I love to share what I learn because I have a passion for helping people succeed in all areas of their life!
My final reason to post my blog income report is most important to me and keeps me publishing them even though I have been tempted to stop writing them. The income reports are like a journal, and they keep me accountable. I was a nurse for a long time and still like to chart meticulously, but I wouldn't write all of this just for myself to keep a record. I want my income reports to be an accurate picture of "health" for my blog, good or bad, which allows me to see more clearly where my blog needs to improve.
What I Hope This Income Report is NOT
I hope this blog income report is not a cause for comparison, but rather, for you to get at least one takeaway that can benefit you from reading this.
I'm very sincere, honest, and humbled to share all of my personal blog information, and it's not easy to write these for anyone to read.
I keep being reminded that blogs take time to grow. My stats are not outstanding, so I continue to educate myself, stay consistent, and persevere!
How I Got Started with Monetizing My Blog
I took a blogging course called Building a Framework right before I launched my blog. During the course, I learned the basics of how to make income from blogging and decided to start monetizing my blog through affiliate marketing. My first affiliate was Amazon because they are a good fit for any niche. Then, I began to search for affiliate programs for companies that I know and love.
Soon after launching my blog I took a popular course called Making Sense of Affiliate Marketing. The course was highly recommended and I knew there was still so much I needed to learn to be able to monetize my blog successfully. This course was a game changer for me and was how I've been able to monetize my blog since my first month of blogging!
I applied the lessons as I went through the course and started to see my affiliate sales come in! I highly recommend Making Sense of Affiliate Marketing to everyone that wants to monetize their blog! The course will pay for itself and so much more.
Why I Recommend Affiliate Marketing for New Bloggers
Affiliate marketing allows new bloggers to make an income from blogging right away which helps to pay for blog start-up expenses.
I've had a fascination with affiliate marketing ever since I first learned about it. I started a Facebook group for women bloggers as a result of taking the course, Making Sense of Affiliate Marketing. The group is intended for women bloggers that blog as a business to have another avenue to promote their brand and affiliates.
In comparison, income from ads requires a lot of traffic which takes time to generate.  A blogger needs to get to know their readers, grow an email list, and have an engaged community to create a product for them and have a successful launch. Networking with brands to get sponsored posts can take time as well and they are a lot of work, so I've heard.
This is why I choose to make affiliate marketing my main stream of income until I can create a product for my readers.
Okay, now for the stats!
Blog Stats and Income Report for My Ninth Blog Income Report
Pageviews: 2,744
The majority of my pageviews were from a handful of holiday-related posts. I didn't promote my posts as much as usual since I needed a social media break, and it reflected in my pageviews.
Subscribers: 193
I've noticed that I get a surge of subscribers after a new opt-in. It's been a few months since I made a new opt-in and I've had a dramatic decrease in new subscribers as a result. I had fourteen new subscribers in December which is less than my first month of blogging. My husband just bought me a Thrive theme membership so I'm hopeful with some new opt-ins and nice landing pages using Thrive Architect I'll gain more subscribers.
My Pinterest stat is noticeably higher than the others because Pinterest is the main social media platform I promote my blog posts on. The other way I promote my blog is by focusing on SEO with good keyword placement to bring in organic traffic.
Alexa Ranking: Global Rank – 652,006; U.S. Rank – 152,434
My Global Rank decreased and the U.S. Rank increased!
The lower the number, the better. Click here to find out your Alexa ranking.
Total Blog Income Earned in December 2017: $98.51
Affiliate Sales:
Amazon: $40.36
Healthy Traditions referral: $25.00
Ads:
Total Blog Expenses in December 2017: $499.73
All my blog income is saved to pay for blogging expenses and taxes. I choose to pay for yearly subscriptions with a one-time payment for a discount. I only list the expenses I paid for that month.
Easy Product Displays: $62.99
Various Misc. Expenses: $77.74
What I Learned
About December Sales
This was my first December as a blogger so I had no idea what to expect for the holidays and a blog. I learned that Christmas related posts can drive a lot of traffic from Pinterest. My income was lower this month since bloggers weren't using my blogging affiliate links like other months. Although, I was more excited that my Amazon links were getting used. It was the first month that I had more than a handful of sales, and it was exciting to see my Amazon affiliate page light up with green bars!
Lumen5
I used a free video tool called Lumen5 to create this post on Facebook. The short video brought in a decent amount of traffic to my blog, plus, it's quick and easy to make a video out of pictures from your blog post or choose from their free images. Once you've created an account with Lumen5 you will receive, on occasion, a video they created for some of your other blog posts to give you ideas. You can make your own Lumen5 video out of your blog post by clicking here.
Fridgg
Have you heard of Fridgg? I was just introduced to this platform for food bloggers this past month. Fridgg allows you to upload an image of your recipe and a link to your blog. I shared my most popular recipe and it gave me a little bump of traffic. I plan to use this more after I take a food photography course. Here's the picture I submitted.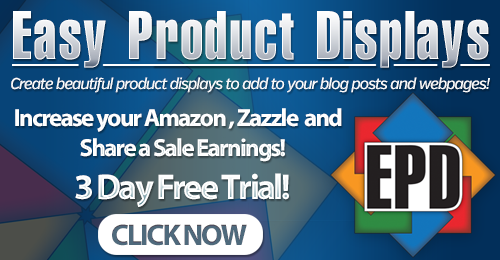 Easy Product Displays
A friend told me how she purchased Easy Product Displays and it has helped her income grow from Amazon affiliate links. I bought it to access for a year and added the links to a couple of my blog posts so far. The main reasons I bought it are to be able to place multiple products next to each other in a post, it displays ShareASale links also, and it will notify me if one of the products are out of stock so I can update the post with a new link. You can see how Easy Product Displays looks in action in my most read and clicked post in December.
Planning for Success
I took a course called Planning for Success. I knew the course went over making a business plan and productivity tips, but to be honest, I bought it for the 3-hour workshop to create a no-fail digital product and I wanted to participate in the Facebook group since Emily McGee is really nice and so helpful.
I was blown away by Planning for Success! The tips presented in this course were exactly what I needed to hear in the midst of an overwhelming month for me. I will be using the productivity tips to helps me have a successful year of blogging in 2018! I got more out Planning for Success than the Michael Hyatt Best Year Ever course I bought a couple of years ago and only had one year of access to.
Plus, I was pleasantly surprised with a bonus planner and a 45-minute one-on-one planning session with Emily McGee via Skype. I feel like I got the course for a steal after taking the course and finding out everything that was included. If you'd like to learn more about Planning for Success, you can join the waiting list here.
Billionaire Blog Club
The Billionaire Blog Club is a membership program for bloggers, but currently, it's just a one-time fee to join for lifetime access. There are ten courses and a Pinterest eBook, plus challenges, and an active community on Slack. I'm so glad I joined and this was also a great value!
I've learned so much that built upon the other courses I've taken in the past and I'm excited to start incorporating what I've learned in 2018!
My favorite parts of the program are the awesome emails, his quick response time to emails, the courses are in video format, the lessons are what Paul Scrivens (Scrivs) has used to build his successful blogs that are in various different niches, he's funny and personable, and he has a great voice so the videos are enjoyable to listen to.  Scrivs describes the program as the only program a blogger should need. He is available to answer your questions via email or in the Slack community. It feels like I have a lifetime blogging coach!
Review of December Goals
I will work a minimum of six hours a day. I will achieve this by keeping track of my blogging work time.
I will have January's blog posts completed and scheduled. I will achieve this by batch writing.
I will focus on taking as many courses as I can. I will achieve this by setting aside all of my work time to courses outside of writing and Pinterest.
Overall, I can say I achieved my December goals! I worked a minimum of six hours a day except for a couple of days after a family tragedy.
As for batch writing, I had several rough drafts written and kept changing my mind on which posts to publish in January. I realize that I like to determine my post topic on a week to week basis while I'm still getting to know my readers and what they need.
I spent most of the month taking some awesome courses! Among them, I finished Elite Blog Academy, ten courses and a Pinterest eBook included in Billionaire Blog Club, and Planning for Success. These courses are among my favorite blogging courses for impacting me and my skills as a blogger!
January Goal
I have one goal for January instead of my usual three goals. I made a word for the year that explains what my overall goals are that I want to achieve in 2018.
Originally, my word was FEARLESS so I wouldn't allow fear to stop me from creating my first product. Then, I had an epiphany! As I finished up my course called Planning for Success, I realized one thing about myself. I realized that I pile too much on my plate and it keeps me from being my best at any one thing.
I have FOMO, fear of missing out. I love to learn new things and meet new people because I want to experience as much as I can, but this comes at a price. I get overwhelmed by all the things I have gotten myself into and I'm not present to any one task.
To succeed at my blogging goals, I need to lessen my involvement in some things. I need to focus on the blogging basics; create great content for my readers, build traffic and an email list, and then I'll be able to create a product that meets their need eventually.
My word for 2018 is SIMPLIFY!
I'm going to focus on how I can simplify my life and think twice before I make another purchase or say yes to another project or favor. This means that I'll have to say no to some people which is hard for me, but I think I'll catch on quickly once I see how it improves my life. I had a recent experience with something I got involved in a couple of months ago. I had no time to commit to it and said no to being involved any longer, and it took a huge weight off my shoulders.
I'm excited to report to you next month on how the word SIMPLIFY affects my life.
Thank you!
I truly appreciate the income that affiliate links bring in as it helps to fund the blog tools I use and courses I take to keep Aroma Mama going.
I would like to thank the following bloggers that used my affiliate links in December:
THANK YOU,
Beth @ Natural Mama Cafe
Carolin @ Mom Can Do This
Let me know if you use one of my affiliate links to make a purchase so I can give you a shout out as well in next month's blog income report!
Top Three Posts in December
I hope you found inspiration and helpful tips for reading my ninth blog income report. Please share this post to save as a resource for yourself and other bloggers to find helpful tools and inspiration!
Are you looking for some great courses and blogging tools for your blog? Click here to check out the blogging tools and resources I use and recommend!
Essential Oils Dilution Free Cheat Sheet Printable
Get your copy of the Essential Oils Dilution Cheat Sheet printable plus so much more in the Resource Library!
Thank you for being a subscriber! To access the Resource Library, click on Resource Library on the header, and enter the password: aromatherapy